WORKERS' COMPENSATION REPORT
A Work Comp Claimant Chuck
Claimant was employed as a Recycling Technician for Delaware Solid Waste Authority, and filed an initial Petition seeking acknowledgement of an 8/23/16 incident where he was loading a truck with bags of waste at work and felt a "pop" in his back, causing injury and a period of disability/treatment.
The Board held that no accident occurred, finding as significant that the alleged work accident was not witnessed, and Claimant did not tell any of his medical providers or the Employer that, before he clocked into work the morning of the accident, he unloaded 840 pounds of wood from his personal vehicle. This activity involved lifting, bending, and twisting repeatedly and was captured by the Employer's surveillance cameras and brought to Employer's attention by one of the claimant's co-workers. After Claimant discovered that a co-worker had brought this activity to Employer's attention, the Claimant accused the co-worker of being "a rat."
In further finding that the Claimant was not credible, the Board also noted that the Claimant failed to disclose/accurately describe his pre-accident back treatment. In addition, on the day of the Hearing, Claimant called in sick to work, and was surprised when his supervisor was at the Hearing, and explained that he called in sick because he did not want to use vacation time to attend the Hearing. The Board also accepted the testimony of Employer's medical expert who viewed the surveillance footage showing Claimant unloading his truck, and testified that it was activity competent to cause an increase in symptoms of Claimant's well known pre-existing degenerative back problem.
For questions regarding this Decision, please contact William D. Rimmer or any other attorney in our Workers' Compensation Department.
Darrin Johnson v. State, IAB Hrg. No. 1446454 (May 30, 2017).
WORKERS' COMPENSATION REPORT
A Good Deed Goes Unpunished
The Board granted the dismissal of the City of Wilmington in regard to a workers' compensation claim filed against the City and two subcontractors.
The facts of the case are straight forward A housing unit fell into disrepair which required the City to rehabilitate the building for the purpose of public safety. The City retained a subcontractor to complete the work. The subcontractor further sub-contracted the work to another business. That business employed the claimant who fell from scaffolding and sustained serious injuries.
The claimant contended that the City was responsible for insuring his workers' compensation claim under 19 Del. C §2311, which requires that general contractors on construction sites retain and obtain a certificate of insurance from any subcontractors. The City had obtained proof of liability insurance but not workers' compensation coverage from the subcontractor. The City argued that it was not liable under Section 2311 as it was not in the construction business and therefore was not required to obtain proof of workers' compensation coverage. The Board agreed. The language of Section 2311 did not apply to the City as it was not functioning as a contractor in the construction industry but was merely performing a ministerial act required by the law. Glover v City of Wilmington, et al, IAB Hearing No 1433371 (March 13, 2017).
For questions about this Decision, please contact John Ellis, or any other attorney in our Workers' Compensation Department.
 LITIGATION CASE LAW UPDATE

One Policy Fits All:
Intrapolicy Stacking of UIM Coverage
For now, an automobile passenger can recover underinsured motorist benefits (UIM) after exhausting the same policy's liability limits.
On September 17, 2014, Plaintiff was a passenger in an automobile accident in which the vehicle's driver was allegedly negligent. Following the accident, Plaintiff exhausted the driver's liability limits and pursued a claim for UIM benefits from the driver's policy. The Insurer moved for summary judgment arguing that UIM benefits are not available to the Plaintiff because the driver's policy clearly and unambiguously prohibited recovery from both bodily injury liability and UIM coverage. Plaintiff responded that such policy limitations are void as inconsistent with public policy and the Delaware statute.
In denying the Insurer's motion, the Delaware Superior Court analyzed the statute and the related case law, specifically Baunchalk. The Court found the UIM statute to be unambiguous: it defines an underinsured motor vehicle relative to the victim's injuries and makes no distinction based upon the number of vehicles or insurance policies involved in a collision. Interestingly, the Court acknowledged that the Insurer's arguments, "may reflect the intent of the legislature at the time the statute was enacted," and encouraged the Insurer to pursue legislative clarification. This issue is further in flux as various cases are currently pending on appeal.
For more information on this matter or other legal questions, feel free to contact Michael W. Mitchell or any attorney in our Liability Department.
Tillison v. Geico Secure Ins. Co., 2017 Del. Super. LEXIS 240 (May 15, 2017). (Baunchalk v. State Farm Mut. Auto. Ins. Co., 2015 Del. Super. LEXIS 1073 (Oct. 26, 2015).
EMPLOYMENT CASE LAW UPDATE
The Employer Is Chauffered The Door:
No Chain of Custody For Failed Drug Test Results In Award of Unemployment Benefits
Under Delaware Law, an employee may not recover unemployment benefit if s/he was discharged for just cause. 19 Del C. §3315(2) defines just cause as "a willful or wanton act in violation of either the employer's interest, or of the employee's duties, or of the employer's expected standard of conduct." The Court has previously held that an employer may enforce a drug free workplace as a standard of conduct and as such, failure to abstain from drug usage may provide just cause for termination. Eastern Shore Poultry, Inc. v. Lewis, 2000 WL 703808, at *2 (Del. Super. Ct. May 4, 2000). As with any just cause determination, the burden of proof to show that an employee had used drugs in violation of a drug-free policy lies with the employer.
In 
Ocean Limo Transportation v. Sheila Grant, et al.,
 the employee was employed to drive Medicaid recipients to and from medical appointments. In January 2016, employee was terminated after having failed a routine drug screen. Employee then proceeded to seek unemployment benefits, which Employer contested, stating she had been fired for just cause. After an initial finding in favor of Employer, an Appeals Referee reversed the ruling, finding that Employer had not proved by a "preponderance of the evidence" that Employee had failed a drug screen. The reason cited for the reversal was the Employer's failure to lay a proper foundation for the introduction of the drug screen and therefore such evidence was considered inadmissible hearsay. The Referee noted that Delaware courts had previously held that administrative tribunals could not base a decision solely on hearsay evidence. After the Board affirmed the Referee's decision, Employer appealed to the Superior Court.
In finding for Employee, the Court noted that the Board had instructed Employer that it needed adequate evidence to show that the Employee had violated the drug use policy, to include sample testing procedure and chain of custody evidence. Instead, Employer only presented the drug screening report and did not call any witness to testify as to the validity and findings of the report.
For questions about this matter or other employment issues, please contact any attorney in our Employment Law Department.
Ocean Limo Transportation, Inc. v. Sheila Grant, et al., C.A. No. S16A-07-003 RFS, Memorandum Opinion (Del. Super. Ct. May 3, 2017).
 THIS DAY IN LEGAL HISTORY
Mechanical Reaper Patented 
Cyrus Hall McCormick Founder of the McCormick Harvesting Machine Company, is granted the Mechanical Reaper patent as of June 21, 1834, but must compensate the competing claims of Obed Hussey, who patented the Hussey Reaper in 1833, based on separate design innovations developed by Hussey, and incorporated by McCormick.  The McCormick Harvesting Machine Company, became part of International Harvester Company in 1902.
ANNOUNCEMENTS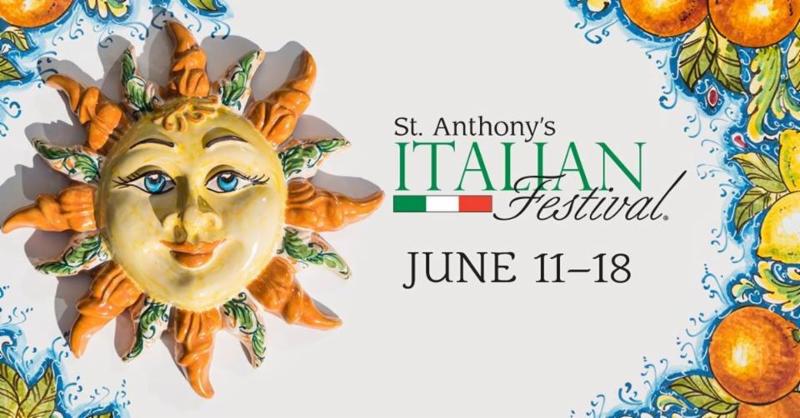 St. Anthony's Italian Festival
Anthony Frabizzio and his family ran the Nona Strada Cafe at the St. Anthony's Italian Festival this year in Wilmington, DE.  The Festival was a great success! Thank you to everyone who supported this worthy cause.
NBI Workers' Compensation Seminar
On August 1st and August 2nd please join our attorneys at the NBI Workers' Compensation Seminar in Wilmington, Delaware. Partner John Gilbert will be speaking on Strategies for Workers' Compensation Hearings on August 1st at 1:45 p.m. John Ellis will be presenting on Medical Issues in Workers' Compensation on August 2nd at 10:00 a.m. Gregory Skolnik will present on the issue of Calculating the Value of a Claim on August 2nd at 11:15 a.m. as well as Ethics at 3:30 p.m. For more information please follow this 
link.
Firm Picnic
Here at Heckler & Frabizzio we reward our staff for their preeminence! We pride ourselves on the services we provide and could not do it without our team. Therefore, on August 25th at 12:00 p.m. we will be blissfully unavailable as we will be celebrating the hard work that goes into our business at our annual Firm Picnic. Thank you to all of our staff and we look forward to another great year.
Coming Soon!
Heckler & Frabizzio is proud to announce we have developed a useful tool that will allow our clients to view Jury Verdict information in one central location. Stay tuned for the official release!